Changemaker spotlight: Meet Hanna Lundström, the people's Climate Change Officer  
As well as advising a Scottish local authority on net zero strategies, Hanna is sitting on the board for an island off her home country, Sweden, making her impact on the built environment international.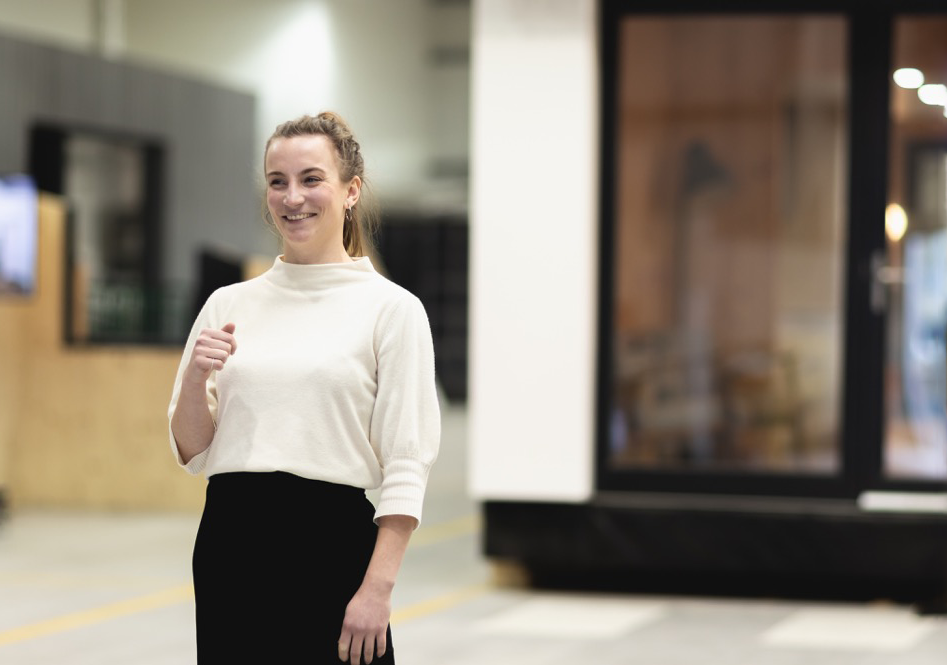 Hanna Lundström, Vice Chair of the Built Environment Change Makers (BECM), is an advisor for East Lothian Council as a Sustainability & Climate Change Officer. Her role is multi-faceted including planning, policy, communication, engagement, consultancy and more. 
Hanna started her career with a degree in psychology and a keen interest in people. Wanting to work with sustainability, her father first mentioned built environment to her, and what she found is that the gap between built environment and psychology isn't as large as what she first thought.  
Her role as a climate change officer 
Hanna's career started in the Estates team at University of St Andrews, where her team fed into the development of University's Net Zero Strategy. With her learnings from developing a strategy that takes all functions and strengths of an organisation into consideration, she has now continued her work with East Lothian Council.  
Her achievements in East Lothian Council include working with communities at risk by identifying climate actions in their Area Plans for places such as Musselburgh and North Berwick, introducing carbon literacy training as a Top Council Indicator, delivering training and workshops on climate crisis mitigation and adaptation for employees and senior managers in the Council across all Services, and being part of the induction process with all new staff. 
A local authority hosts almost all societal functions with great leverage for behavioural change - getting these functions to work together provides a great opportunity to tackle climate change.

Hanna Lundström
The island of Ornö & Sustainable Scotland Network 
One amazing impact Hanna has had on the built environment is her work on an Island in Sweden. She sits on the board for the remote part of island Ornö, which is the largest in a southern group of islands off Stockholm. Her area covers 38 cottages, with about 3,700 000 square metres of land, and 6 people on the board. Together the board work to identify and implement needs for people in the community – all the way from smaller projects like putting in wooden stairs in forest to larger ones like how to install more resilient water systems, internet fibre, heating and electricity.  
Hanna also works with the Sustainable Scotland Network (SSN) and has, as a lead for their Community Engagement and Behaviour Change Working Group, run two workshops with the Scottish Government to help local authorities integrate behaviour change models and collaborate with communities in their work to decrease area-wide emissions. 
Meeting of the minds  
With her unique background, Hanna brings a fresh perspective. She brings her degree in psychology to her job in many ways, in particular with workshops. According to Hanna, bringing people together is the best chance of making better change. In her workshops, she focuses on helping staff identify the sustainability actions they are best equipped to take within their area of expertise – whether in planning, architecture, estates, grounds, or other stakeholder areas. By bringing these different perspectives together and utilising their strengths and levers of influence for sustainability, the sector is better primed to discover the best solution for different problems. 
The best changes happen when we collaborate across different areas of expertise.

Hanna Lundström
People and buildings 
The main message Hanna shares is that people are at the centre of built environment. We live our lives in the built environment: our homes are a part of it, and our wellbeing is determined by it. People should be proud to work in the built environment – it has a massive scope of positive influence.  
As Hanna has discovered through her work, it's different expertise, perspectives and people like Hanna who are helping uncover the right solutions and driving forward change in the sector, and we look forward to seeing what she does next.