Knowledge library launched to drive uptake in homegrown timber
Today marks the launch of Transforming Timber - a knowledge library designed to promote the use of homegrown timber in the UK built environment. The online resource aims to provide the sector with the information and understanding it needs to make homegrown mass timber the material of first choice for specifiers, designers, and contractors.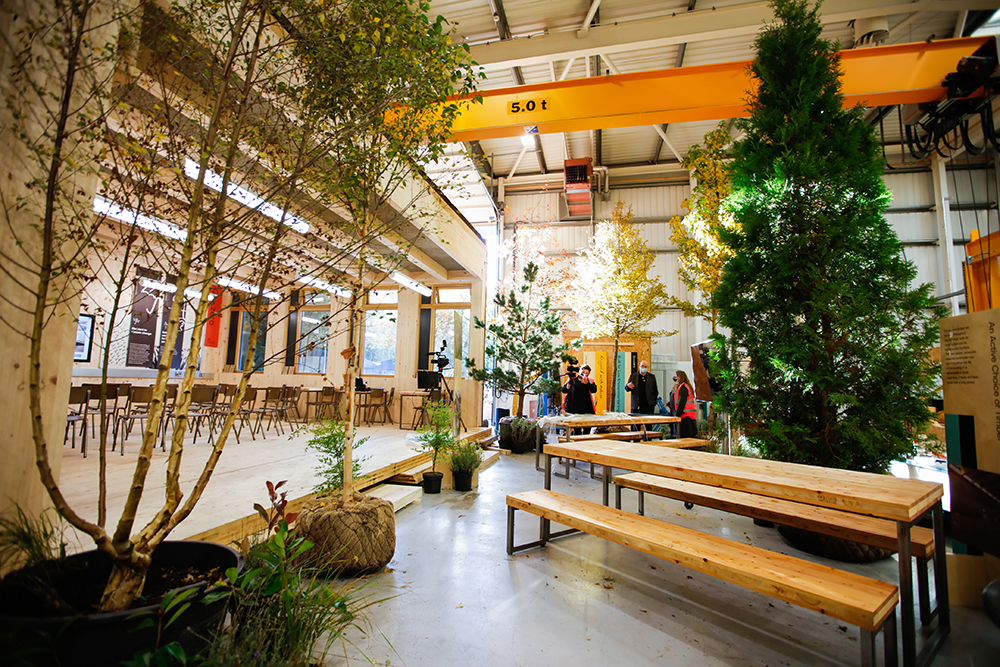 Transforming Timber is the output of an Innovate UK-funded project led by Built Environment – Smarter Transformation (BE-ST) in partnership with Ecosystems Technologies, Edinburgh Napier University and University of Edinburgh to accelerate the commercialisation of UK-grown timber products.
Making this move could significantly improve the carbon footprint of the UK's buildings, while driving the value of homegrown timber through its use in higher grade, higher value products and applications. By increasing use in commercial construction and housebuilding, the move can also reduce the UK's reliance on imported timber and create a new manufacturing industry that delivers green jobs and supports a just transition.
Transforming Timber is launching at the 'Building from England's Woodlands' event – a project funded by Forestry Commission and managed by NMITE in partnership with dRMM Architects, Ecosystems Technologies, Edinburgh Napier University and BE-ST.
Supported by a consortium of experts in timber manufacturing and engineering including the Timber Development UK (TDUK), Confederation of Forest Industries (Confor), and Scottish Forestry, the Transforming Timber website will provide the sector free-to-access content including information on life cycle analysis, value chain mapping, quality assurance test work, manufacturing compatibility and case studies exploring key areas such as post occupancy evaluation.
Sam Hart, Head of Modern Methods of Construction, BE-ST said:
"The launch of Transforming Timber is an important milestone in the move towards more mainstream use of home-grown timber in the UK's offsite manufacturing sector. Making the industry aware of natural and renewable resources like UK-grown mass timber, its wide ranging high-value applications, and its transformational potential is the first step in creating a sustainable and resilient built environment and accessing a range of environmental, cost, and economic benefits for the UK."
Professor Robert Hairstans at Edinburgh Napier University and Director of the Centre for Advanced Timber Technologies, NMITE said:
"The UK has the renewable resource, internationally recognised expertise and technical capabilities necessary to be at the forefront of a new approach to delivering a sustainable built environment in response to the climate crisis. Extensive research and investment – on the part of my team at Edinburgh Napier University and by other experts – has proved that a mass timber approach to construction is very much feasible.
"Transforming Timber simply demonstrates this, while providing the sector with the tools it needs to unlock the potential of UK-grown mass timber and make the future of offsite manufacturing a circular and sustainable one."
David Hopkins, Chief Executive, Timber Development UK said:
"The UK needs to increase the use of timber in construction to achieve its net zero targets by strengthening timber supply chains and boosting the use of homegrown timber. TDUK is developing a considerable range of assets to support specification in partnership with Edinburgh Napier University and BE-ST. The Transforming Timber platform adds to this knowledge base, and we are delighted to be a collaborating partner for this initiative as we collectively try to increase the level of timber used for built environment delivery in buildings which not only store carbon but have minimal operational energy performance requirements whilst creating places where people want to live and work."